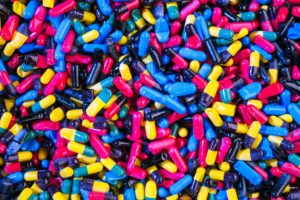 It's simply incredible to see how the way we buy things has changed over the last two decades. In just 20 years, online shopping has gone from being non-existent to becoming a trillion-dollar industry. What with 360-degree product views, videos, consumer ratings, detailed sizing instructions, free shipping, front door delivery and EZ returns, shopping online has become more like shopping in person than ever. And the facts about online shopping are also staggering: In 2021, more than 2.1 billion people are expected to shop online, with e-commerce sales expected to reach $4.9 trillion. As a car guy, I never imagined that anyone would purchase a 6-figure car online without a test drive or kicking the tires, but it happens all the time now. Amidst this e-commerce revolution, one key question is whether it is a good idea to buy prescription drugs online. And more specifically, how about buying "embarrassment drugs" for erectile dysfunction?
Cybermedicine Legality
Just because you can buy a drug online and from the comfort of your home does not mean that it is legal or safe. Remember, prescription drugs in the US must be "prescribed" by a licensed medical provider, and that includes a doctor's visit with a consultation and examination. Lawsuits to date and statements made by prominent medical societies make it clear that the "physician-patient" relationship still matters for prescribing drugs. Foregoing this time-honored process could prove dangerous for consumers.
Cybermedicine Safety
The online drug commerce market has grown very quickly. So quickly, in fact, that state and federal drug agencies are overwhelmed and understaffed when trying to enforce interstate commerce laws among pharmacies and physicians. Part of "prescribing" a drug is a responsibility to educate the consumer about risks as well as benefits of a medicine. This has huge implications for patient health and safety.
You should never take a prescription drug without a consultation with and prescription from a physician. Moreover, there are some important questions you should ask yourself before taking a prescription drug:
What's actually in the drug? Many drugs sold online do not meet the quality standards of FDA-approved pharmaceuticals. FDA-approved, pharma-grade prescription drugs may cost more but they are quality-guaranteed. Not always true with online medications.
Is the drug legal? The lack of enforcement means that access to illegal or unapproved drugs is widespread. And with this comes the issue of fake health claims.
Is the drug right for me? The loss of the patient-provider relationship could result in missed warning signs regarding prescription medicines and lead to untoward health consequences.
What if I have a drug reaction? If things go wrong with the medication, who are you supposed to contact for problems?
Buying "Embarrassment Drugs"
When it comes to buying "lifestyle drugs" like erection pills, the benefits of going online are clear: cost, confidentiality, convenience, speed, and access to oodles of information not readily available in brick-and-mortar pharmacies. But a study by the grandfather of Viagra®, Dr Irwin Goldstein, found that 77% of pills purchased from 22 different websites were counterfeit and contained only between 30-50% of the active ingredient advertised on their labels. In light of this, here is my advice regarding buying ED drugs online:
Be cautious when visiting online drug sites. Understand that the legality and product quality of many online drug stores is questionable. Try to buy from reputable pharmacies.
Realize that consultation (and preferably a visit) with a doctor is technically required for buying prescription drugs. Seek a similar interaction when buying drugs online and talk to a professional before buying.
Prescription drugs are not sold "over the counter" for good reason: they have known side effects which could have health consequences. Get educated from a provider or pharmacist regarding these issues as it's your health at stake!
As we wander deeper into cybermedicine, we should heed the words of George Herbert: "The buyer needs a hundred eyes, the seller not one."
The post Should You Buy ED drugs Online? appeared first on The Turek Clinic.